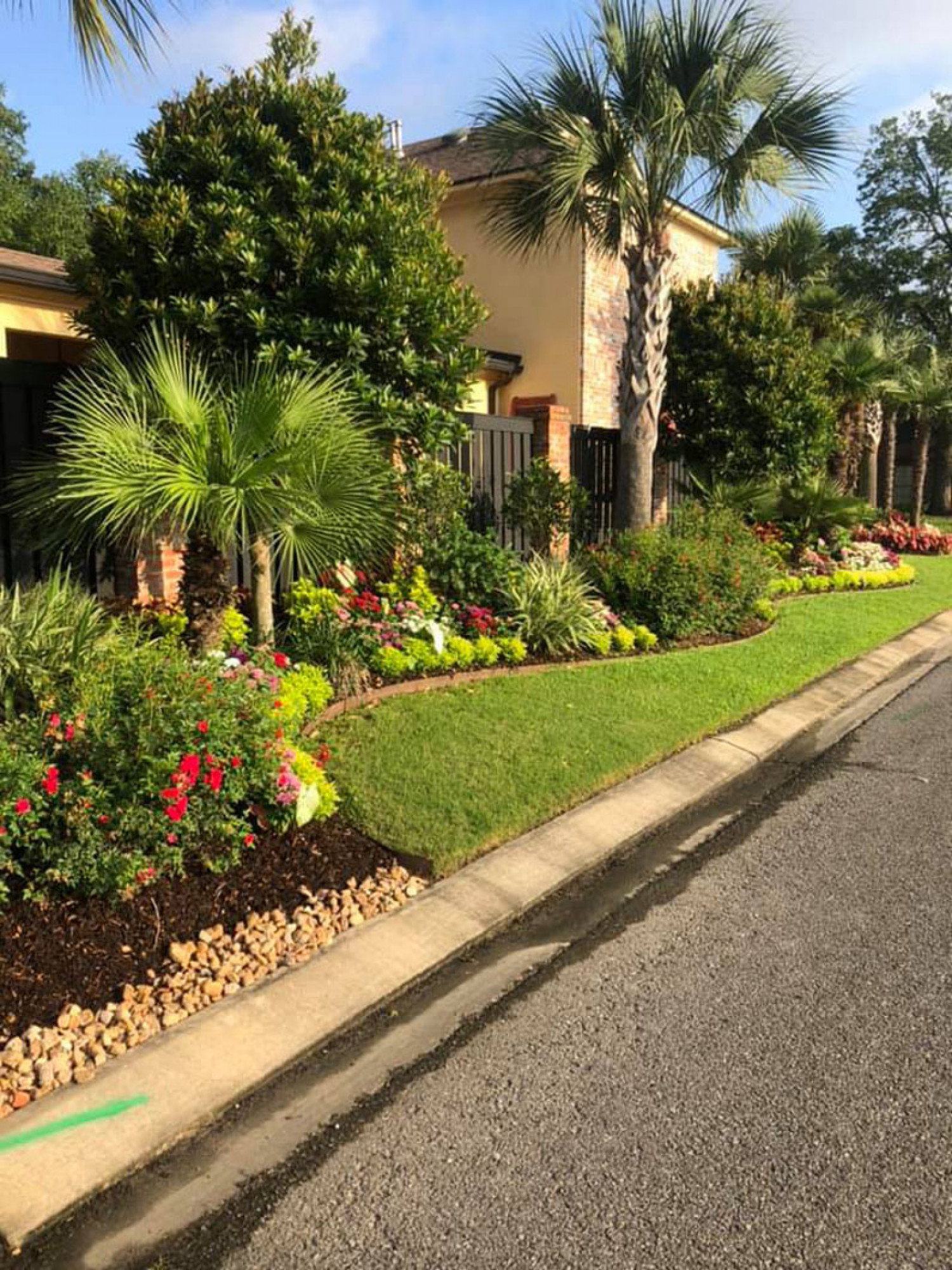 About Acadiana Landscape Materials
LAFAYETTE, BROUSSARD & YOUNGSVILLE LOUISIANA
First impressions matter. What is your property's initial appearance saying?
In Lafayette, lawn care is a large part of a home's first impression. Is your home portraying the image you want? If you are in need of a refresh, turn to the experts at Acadiana Landscape Materials. We are committed to taking your vision and making it a reality. Our professional landscapers take pride in transforming your property into looking its very best.
Among the various services we offer include our different groundskeeping services:
Outdoor Lighting
Lawn Maintenance
Irrigation / Sprinkler Systems
Drainage
Topsoil / Rock / Mulch
Premium Landscaping
About Acadiana Lanscape Materials Owner Toby Daigle
How did you get started?
Acadiana Landscape Materials was started over 20 years ago by owner Toby Daigle. "I got started around 8 or 9 years old, tagging around with my dad while he would cut lawns. Along the way, I realized how much I enjoyed taking care of lawns and landscaping," says Daigle. "I started a little landscaping business in college, and I've just kind of been doing it, in some sort of fashion, ever since."

When did you decide to make Landscaping your primary focus?
"When I finished college, I felt like I had to get a 'full-time' job, so I went into the oil field, but after having my first child, I realized that I didn't want to be away from my family ... I wanted to be home every night to be with them - not just half of the year," says Daigle. "I decided to go back to my original love, and that was Landscaping ... I decided to 'Go for it!'."
How did Acadiana Landscaping Materials start?
"We started in Broussard selling materials and doing landscaping jobs. Over time the business kept growing and growing," says Daigle. "I had to because my family was growing rapidly as well. The business started with one man, one truck, one idea with a wife and child. Many years down the road now, I have seven children, and our business has matched that pace of growth as well."
How important is family and roots to you?
"Family and home mean everything to me. And I that reflect directly in my life and business. Acadiana Landscaping Materials is all about making Acadiana, my home and where my family is being raised, a better place to live. A beautifully landscaped home brings joy, to both the homeowner and the community as a whole." says Daigle. "If our work can bring a smile to our clients, that makes me smile. It's really a win-win for everyone. And my children love to help us out in our work. it teaches them hard work, how to make their home a better place to live ... it brings everything around full-circle."
How has Acadiana Landscaping Materials grown?
"Like I said, we started out selling materials and doing landscaping jobs. As we've grown, we've added a commercial arm to work specifically with businesses, we've also added irrigation/sprinkler systems to our services, as well as, landscape lighting and drainage. We also do lawn care, so we are a one-stop-shop for our customers." says Daigle. "If you hire Acadiana Landscaping Materials, we are the only phone number you need to remember to have any work that involves your lawn or landscaping."
What do you like best about your career?
"Bringing smiles to our customer's faces. To help our clients realize their dream ... is a dream for us as well. When you finish a job and the customer sees it, they usually have that look on their face like a child on Christmas morning. It really warms our heart to see that." says Daigle. "That and being able to be home with my family and live in the area that we love. I'm proud of that."
What would you tell someone who wants to beautify their property but is hesitant to engage a company like yours?
"Call us....don't hesitate. We work on jobs with widely varying budgets and homes. Some big, some small, and a lot of in-between. We can do jobs in stages, and develop an overall plan for the property on a timeline that works for the homeowner." says Daigle. "Don't let anything stand in the way of you having your home look like the home you dream of. Give us a call at 337.573.7222"
Here's why you can rely on Acadiana Landscape Materials to service your outdoor space:
We are a locally owned Acadiana business of 17 years!
Our staff is highly trained and supervised
We respond quickly and work within our customer's timeline
We use well-maintained and reliable equipment
Our staff is uniformed, professional and courteous
We drive branded vehicles
We are committed to achieving our customer's vision
Top notch landscaping service! Great work, quality service and fair pricing. Search no further!!!
I see their work all over Lafayetre and it is fantastic!
Would definitely recommend! Great work and great service! I couldn't tell where they ran any lines or removed any of my landscaping! Thanks guys!
I would absolutely recommend Acadiana Landscape Materials! I contacted Toby for an estimate on my new construction landscaping....after meeting with him and describing my vision he quickly got back to me with a price and a sketch of exactly what he had in mind. A few weeks later our vision became a reality and it is just what I wanted. I extremely pleased with my new Landscape!
They always have what I need and have amazing staff!
Toby and his crew are always there when you need them!
Great customer service. They sold me granite to fix my driveway because the weather made it all was muddy. Lowest price after checking a few vendors fast and great friendly service. Thank you!!
Added rock garden around my pool. Great work, honest and excellent service.