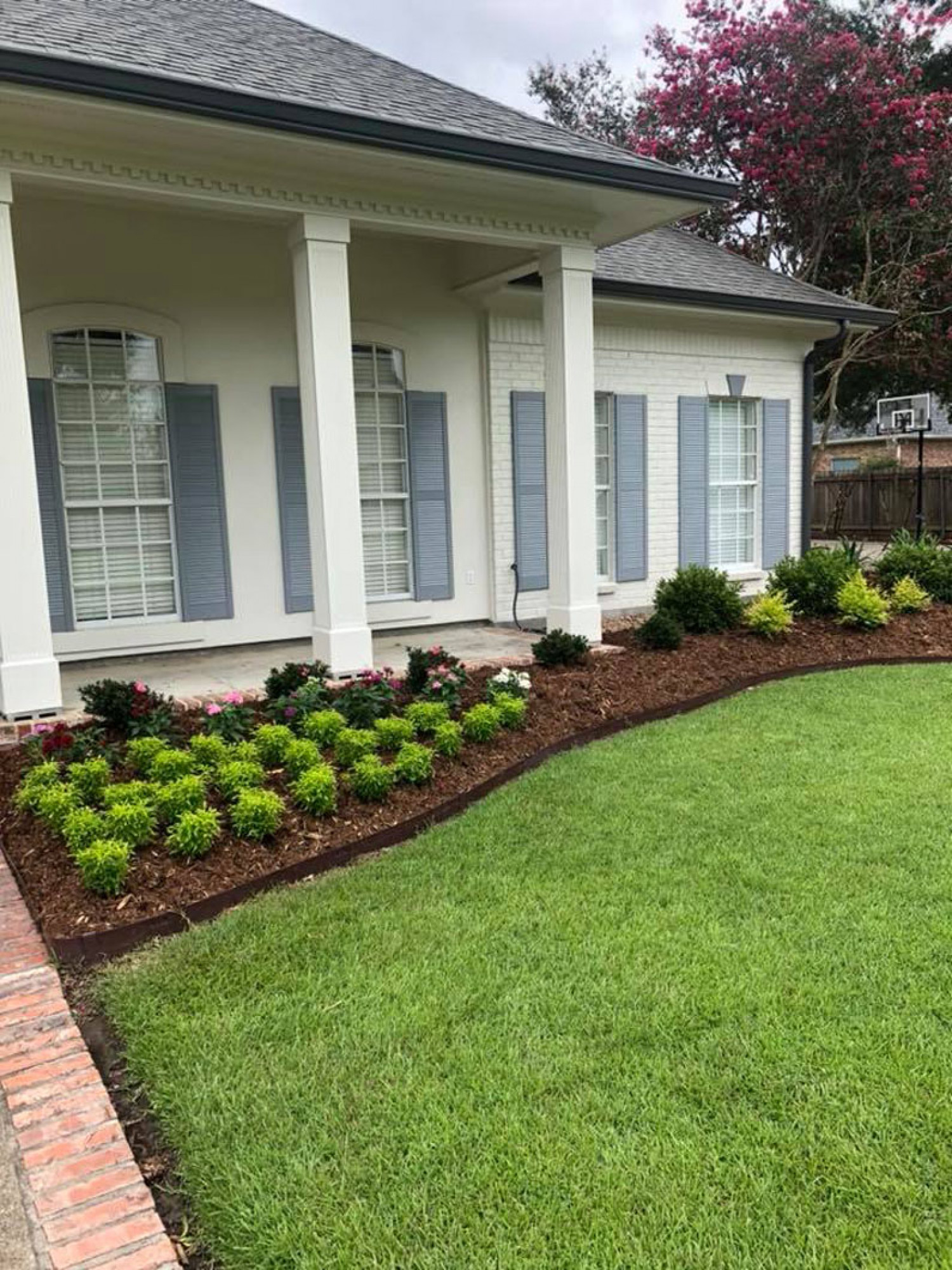 Lawn Care Services & Flower Bed Maintenance
LAFAYETTE, BROUSSARD & YOUNGSVILLE LOUISIANA
We put our customers first!
At Acadiana Landscape Materials LLC, we're dedicated to providing you with detailed and specific services to give your lawn a great makeover. We have the skills and regularly maintained professional equipment to get the job done in a timely manner.
Residential Lawn Care Services
Lawn Mowing
Lawn Cutting
Trimming
Cleanup
Ask About Our Yearly Plans Today!
Want to keep your lawn looking its best all year round? Acadiana Lanscape Materials offers yearly plans that include 40 visits guaranteed to improve the look and quality of your lawn.
Flower Bed and Gardening Maintenance
Flower beds add a pop of color and impact giving your property the visual appeal it needs. Maintaining the integrity of your flower beds year-round can be a daunting and time-consuming task that may be hard to fit into your already busy schedule. Acadiana Landscape Materials provides the care and attention your flower beds need including:


Weed Control
Fertilization
Soil Cultivation
Raking
Edging
Residential Pruning and Tree Trimming
In order to achieve optimal health and growth, your trees and shrubs need proper pruning. Our professionals are here to provide your landscape with the trimming and pruning it needs to look its very best. Trees can be the most important and defining aspects of your property. Giving them the proper care and attention they need is essential to increasing their lifespan and improving their appearance.
Spring and Fall Clean-up for Homeowners
Cleaning up the appearance of your landscape during the important season-changes is a large task. Let us do the hard work for you! Acadiana Landscape Material's landscaping and lawn care experts are here to ensure your yard is ready for the upcoming season. Our clean-up services include:

Mowing the grass
Re-edging gardens and flower beds
Pruning trees and shrubs
Lawn Aeration
Cleaning up leaves and debris
Top notch landscaping service! Great work, quality service and fair pricing. Search no further!!!
I see their work all over Lafayetre and it is fantastic!
Would definitely recommend! Great work and great service! I couldn't tell where they ran any lines or removed any of my landscaping! Thanks guys!
I would absolutely recommend Acadiana Landscape Materials! I contacted Toby for an estimate on my new construction landscaping....after meeting with him and describing my vision he quickly got back to me with a price and a sketch of exactly what he had in mind. A few weeks later our vision became a reality and it is just what I wanted. I extremely pleased with my new Landscape!
They always have what I need and have amazing staff!
Toby and his crew are always there when you need them!
Great customer service. They sold me granite to fix my driveway because the weather made it all was muddy. Lowest price after checking a few vendors fast and great friendly service. Thank you!!
Added rock garden around my pool. Great work, honest and excellent service.